Race Date:
June 12th (Youth & C Classes)
June 13th (A/B Classes)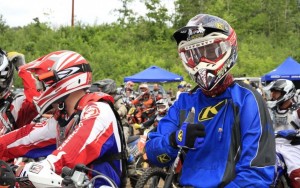 Friday:
Gates Open 5-8pm
Saturday:
9am-8pm – Gates open
10am-6pm – Sign up
12pm – 65cc/85cc/ Girls Race
2pm – 50cc Jr/50cc Sr Race
4pm – C Classes, Juniors, Women, Masters 1, Sportsman 1 Race
Sunday:
7:30am – Gates open
8am-1pm – Sign up
10am – B Classes, Masters 2
1pm – AA/A Classes
Fees:
$50 – AA entry fee
$40 – A/B entry fee
$40 – C entry fee
$20 – 50 Jr & Sr, 65cc, 85cc & Girls
$20 – Overnight Camping (per night, per vehicle)
$10 – Gate fee per day (kids 5 and under are free)
$5 – Transponder
Other Requirements:
District 23 Off-Road numbers are required for Hare Scrambles. If you do not have a D23 Issued number on your bike that matches the number issued on your District Card you will be required to purchase numbers for your bike. At sign up we will have sets of numbers for $5 available for purchase.
AMA Membership
AMA District Membership
No spark arrestor required.
94 dB Sound Test – Sunday @ Motocross track
All Straight Arrow Enduro Rider races held at Arkansaw MX are AMA and District 23 sanctioned points-paying events. You must be a member of both the AMA and a local district (any district) to race. All applicable rules and regulations apply. Sign up forms will be available for the AMA and District 23 at registration, but we encourage you to please sign up online in advance: AMA and District 23
Course Details:
The course is located on the flowing Arkansaw MX motocross terrain. Be prepared for hills, fast and flowing single track, technical challenges, and competitive District 23 racing at its best.
Spectator viewing of the entire MX track is excellent.
50 Jr & Sr:  All within view of parents
65 & 85cc: Technical 3 mile course
C class: Challenging 7 mile course with elevation
A/B class: Challenging 7 mile course with elevation
More questions? Email the trailboss or call Todd Lofstrom: 651-226-2305
District  information:
If you aren't familiar with District 23 classes, all the information you need is HERE